May 24 2013
At this year's annual conference of the ASLCH (Association for the Study of Law, Culture and the Humanities) at Birkbeck Law School in London at the end of March, the Osnabrück Summer Institute's organizers, alumni, and a faculty member hosted a panel, as well as a round table, that reflected the Institute's ongoing contribution to the study of law and culture.
Besides interacting intellectually, participants from all four Summer Institutes, organizers, and several faculty members met in a London pub on Saturday evening discussing ongoing and possible future research projects, reminiscing about the past Summer Institutes, and discussing the formation of a closely knit Summer Institute alumni network.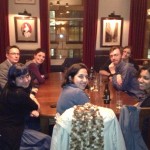 For the organizers it was invigorating to hear about the lasting impact of the Institute on the scholarly work and academic careers of the former participants and about the numerous collaborations that have formed in its wake. In order to facilitate further collaboration, we are currently establishing an alumni network. Moreover, plans are being made to host panels at next year's ASLCH conference and to gather again… then at a bar in Virginia, though!
No responses yet