Mar 28 2022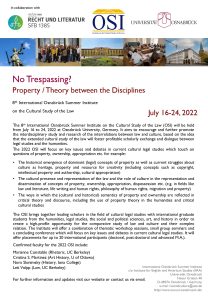 Since 2009, the OSI has successfully encouraged and promoted the interdisciplinary study and research of the interrelations between law and culture, based on the idea that the extended cultural study of the law will foster profitable scholarly exchange and dialogue between legal studies and the humanities. We are committed more than ever to build on and continue these efforts, especially in the face of the current challenges to democratic and open societies.
The Institute will offer a combination of thematic workshop sessions, small group seminars and a final conference for up to 20 international participants (doctoral, post-doctoral and advanced M.A. – see below for eligibility). The introductory workshop will address the range and potential of interdisciplinary studies and approaches in the field of law and the humanities. The remaining thematic sessions and small group seminars will focus on key issues and debates in current cultural legal studies which touch on questions of property, ownership, appropriation etc
The main objective of the OSI is to encourage scholarly exchange across disciplines and the critical debate of current research projects as well as work in progress. Participants will have the opportunity to present and discuss their own work both within the larger group and in individual sessions with members of the OSI faculty. The program will be concluded with a two day conference on the topic of the institute with invited speakers and panel sessions.
No responses yet
Leave a Reply